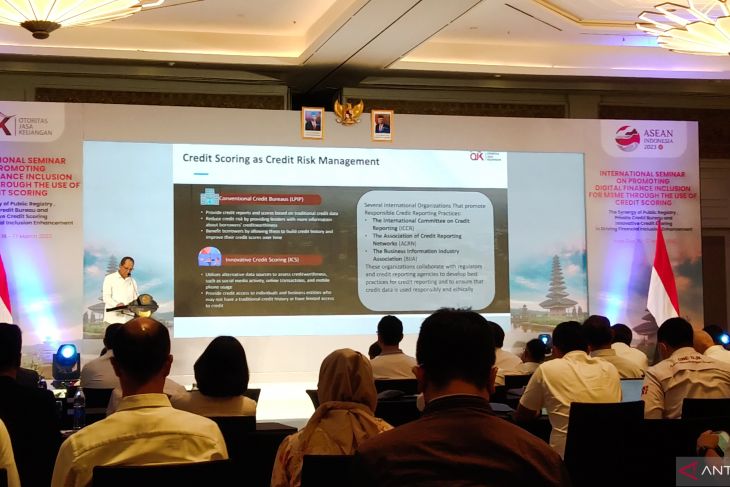 Indonesia accounts for around 40 percent or US$77 billion of the total digital economic transaction value in Southeast Asia, as per the e-Conomy South East Asia Report of 2022, the Financial Services Authority (OJK) has said.
"The value of digital economic transactions has grown 22 percent compared to the previous year," OJK chief executive for insurance, underwriting, and pension fund supervision, Ogi Prastomiyono, said in Nusa Dua, Bali, on Thursday.
This achievement has made Indonesia a significant digital economy player in the ASEAN region, he added.
One of the factors supporting the growth of the digital economy in Indonesia has been the number of financial technology companies (fintech) capable of creating efficiencies and more accessible financial services, Prastomiyono said.
As of January 2023, there were 102 fintech companies connecting borrowers and lenders or offering peer-to-peer lending (P2P), according to the OJK.
P2P lenders make the loan process easier, especially for debtors who have limited access to traditional banking services, the official noted.
"With information and technology innovation, loan disbursement can be done quicker and easier," he said.
Further, in January 2023, 97 digital financial innovations were registered with the OJK and classified into 15 business models, including innovative credit assessment (ICS).
ICS is an added value component in the credit disbursement process, which allows loans to be disbursed quickly with simple conditions and includes the "buy now pay later" (BNPL) scheme, Prastomiyono said.
OJK is encouraging a mix of credit ratings by conventional agencies and ICS since that ensures better credit quality while expanding the scope of financing realization, especially for those who do not have access to banking.
He noted that so far, the assessment of conventional credit institutions has included indicators of loan payments and unpaid debt history.
Meanwhile, ICS utilizes big data covering up to 15 variables, including activity on social media to transactions at online stalls (e-commerce), he added.
He said that the ICS has been one of the breakthroughs for micro, small, and medium enterprise (MSME) owners who want to access credit, but don't have strong access to banks.
"We believe that in 2023, with normal growth conditions, Indonesia's economy will grow well. In 2022, it grew 5.31 percent. For this year, during the global crisis, inflation, increased interest rate, and geopolitics issues, Indonesia's economy remains stable," he added.
Source from Antara News
Original News HERE