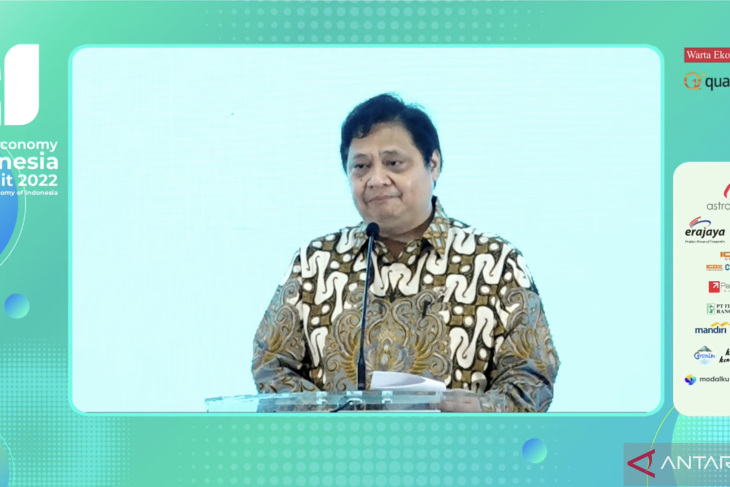 One of the agendas discussed at the G20 was global financial readiness to face the pandemic, according to Coordinating Minister for Economic Affairs Airlangga Hartarto.
"The discussion in the G20 is financing readiness because all of them must have a pull of funds globally," Minister Hartarto stated while delivering a keynote address at the 2022 Green Economy Indonesia Summit: "The Future Economy of Indonesia" virtually in Jakarta, Wednesday.
The minister noted that one of the G20 agendas from the working group payments and health is to provide funding for research and technology, especially to prepare vaccines worldwide.
Coordinating Minister Airlangga conveyed that the lessons to be learnt from the COVID-19 pandemic were ensuring to wear masks, conducting social distancing, and finding ways to dispense vaccines universally and quickly, especially for lung-based diseases.
"History has proven that with COVID-19, the time to market vaccines, from research to production can be cut to one year, which normally took half a decade or five years," Coordinating Minister Airlangga Hartarto pointed out.
During the two years of dealing with the COVID-19 pandemic, he noted that in the first quarter of 2022, the economy was able to grow 5.01 percent on an annual basis. This growth was higher than those of several other countries, including China and the US, and slightly below that of Vietnam.
"We have maintained this five-percent economic growth from the fourth quarter of 2021 and the first quarter of 2022," Coordinating Minister Airlangga remarked.
In addition, growth in the first quarter no longer came from government spending but from export and import activities and investment activities conducted by the public.
Regarding the risk of an increase in COVID-19 cases after the homecoming period, Coordinating Minister Airlangga said the Ministry of Health had noted that 99 percent of the people on the island of Java already have immunity, both from the administered vaccines or being exposed to COVID-19. Until now, despite 80 million people going home, there is no indication of a spike in COVID-19 cases.
"Although based on the data from the last two years, the cases increased after the 24th day, but once again it was emphasized that the rising cases were related to the new variants of Delta and Omicron. We hope that no more variants develop," he affirmed.
Source from Antara News
Original News HERE