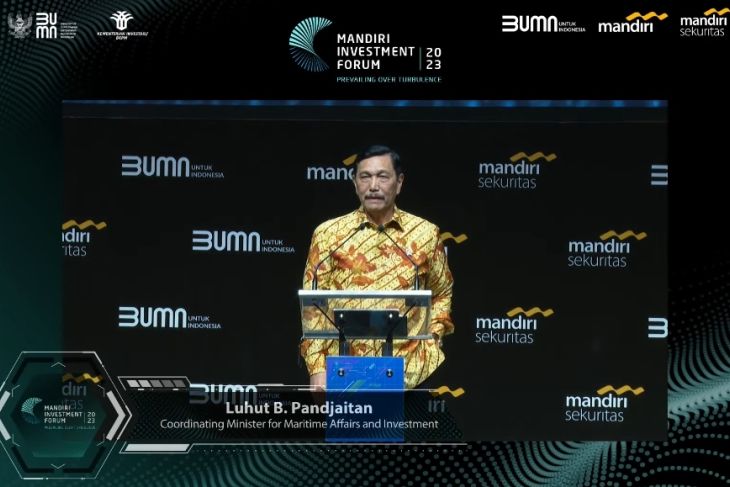 Accelerated adoption of electric vehicles (EVs) is expected to cut the consumption of conventional fuel oil, which has currently reached nearly 70 billion liters per year, the Coordinating Minister for Maritime Affairs and Investment said.
Therefore, the government will increase the market share of EVs in the country by up to 10 percent by providing incentives to buy and convert to electric motorcycles and reduce the taxes on electric cars, Minister Luhut Binsar Pandjaitan informed.
"We continue to push for electric vehicles. In 2023–2024, we will push for a 10-percent market share for EVs and electric motorcycles. That way we can reduce emissions and import fuel," he said at the "2023 Mandiri Investment Forum" in Jakarta on Wednesday.
He said that in 2021, the number of conventional motorcycles reached 118 million units, with sales reaching 6.5 million units per year and fuel consumption 35.9 billion liters per year.
Meanwhile, the number of conventional cars reached 23 million units in 2021, with sales of around 1 million units per year and fuel consumption of 34 billion liters per year.
"Fuel consumption could reach 70 billion liters a year. Can you imagine this figure? So, if we push 10 percent for EVs, we will be able to reduce fuel consumption," Pandjaitan pointed out.
To achieve the 10-percent market share, sales of electric motorcycles will need to reach around 600 thousand units and electric cars around 100 thousand units.
He further said the government will provide incentives of Rp7 million (about US$467.67) for the purchase of electric motorcycles and a tax reduction of around 10 percent for electric cars. According to him, this figure is equivalent to the incentives offered by Thailand.
"Our effort is similar to Thailand and Vietnam. We will make adjustments to make it competitive. Do not look at it as a personal interest but a regional and global interest as well," he added.
The minister said that the government will continue to make efforts to accelerate the adoption of EVs in the next 5 to 10 years.
Regulations will also support the policy on the use of palm oil, which is projected to be used as fuel in 2040–2045, he informed.
"We will produce 100 thousand tons of palm oil per year in 2040–2045, of which 30 percent will be used for food and 70 percent will be used for energy. This will also reduce or stop energy imports from any country. We will become more sovereign," he added.
Source from Antara News
Original News HERE