Norman Harsono
The Jakarta Post
Investors from Japan to the Middle East have pledged to invest billions of US dollars in infrastructure projects, car battery plants and nickel smelters, but experts are pessimistic about whether these investment plans can be realized this year given the bleak outlook of the global and domestic economies.
Coordinating Maritime and Investment Minister Luhut Pandjaitan told reporters on Dec. 10 that US$137 billion worth of investment was in the pipeline for infrastructure projects across Indonesia. Yet, the gloomy outlook of the global economy caused by Brexit and the United States-China trade war and bureaucratic red tape presents could impede the investment plans.
According to the Office of the Coordinating and Investment Minister, most of the investments are slated for oil and petrochemical refinery projects (46 percent) and mineral processing facilities (34 percent), both of which are part of the government's goal to build domestic downstream industries.
Luhut noted that, among other investments in the two categories were those of the United Arab Emirates in three oil refineries and Japan in a $2.8 billion nickel smelter. Remaining investments were intended for transportation (8 percent), infrastructure (5 percent), tourism (1 percent), plantations (1 percent) and other sectors (5 percent).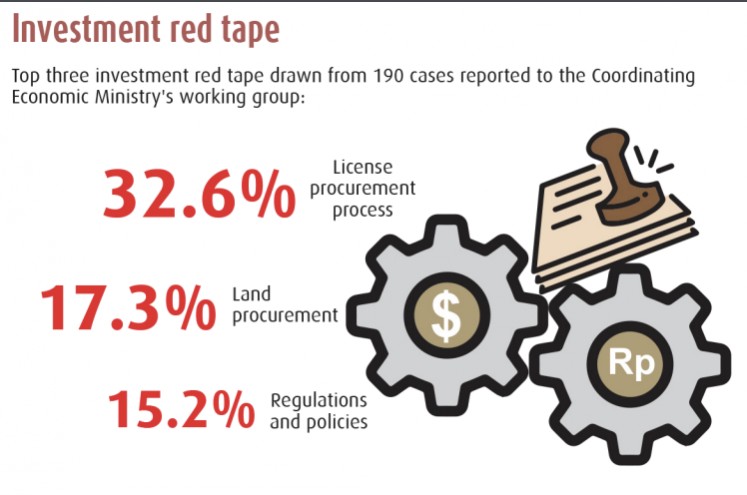 Investment red tape (JP/Swi Handono)
Going forward, Luhut said his office was eyeing German and South Korean companies to build battery factories in either West Java or Central Sulawesi. He was also hoping for American and Japanese financiers to develop a gigantic 9,000 megawatt (MW) Kayan hydropower plant in North Kalimantan (the 1,000 MW Cirata plant in West Java is currently Indonesia's largest).
However, as World bank data shows, Indonesia's gross domestic product (GDP) growth could slow to 4.9 percent next year and slide further to 4.6 percent in 2022 amid intensifying uncertainty, most notably from Brexit and the US-China trade war, resolutions of which have been extended.
In October, the European Union approved a three-month extension of the Brexit deadline to January 2020. Two months later, US President Donald Trump said he was comfortable inking a US-China trade deal until after the November 2020 US presidential elections.
"With the trade war, Brexit, impeachment and US presidential elections, foreign direct investment will not flow as well as it did five to 10 years ago because investors are still waiting and seeing," said economist Berly Martawardaya to The Jakarta Post. "It's only in 2021 that conditions will improve after uncertainties are reduced."
Analysts have pointed out that Indonesia's regulatory inconsistency has also dissuaded foreign investment. The World Bank noted that, between 2015 and 2018, ministries issued more than 6,300 regulations, accounting for 86 percent of the central government's rules.
One problematic regulation is Energy and Mineral Resources Ministry Regulation 50/2017. The rule requires investors to eventually transfer their renewable projects to state-owned utility company PLN, which makes banks reluctant to accept projects as collateral for loans.
By September, renewable energy investments only reached 65 percent of the year-end $1.8 billion target, according to the Institute for Essential Services Reform (IESR).
A field officer monitors a heavy equipment that carries out coal open pit mining activity at PT Bukit Asam's mining site. (Courtesy of/www.ptba.co.id)
"Overall, this level of investment is not on track with the level of investment required to meet the 23 percent renewable energy mix target in 2025," writes the IESR in an energy outlook report.
The growth of investment, which accounts for about a third of the country's gross domestic product (GDP), slumped to 4.21 percent in the third quarter from 6.96 recorded in the same period last year, Statistics Indonesia (BPS) data show.
To attract more investment, President Joko "Jokowi" Widodo has promised to relax 40 ministerial regulations, ease taxation policies, streamline business licensing procedures and open up sectors previously off limits or restricted for foreign investors.
Despite lingering challenges, other economists have pointed out the US-China trade war has a silver lining – one that would support realizing investment ambitions – in that many companies are looking for new investment opportunities.
"Many companies can consolidate themselves, invest and prepare for a boom in the cycle," said economist David Sumual of private lender BCA. "In South Korea, many companies are set to invest in building factories over the next two years to capture new opportunities."
Luhut said he had also been in talks with several global investors, including the Japan Bank for International Cooperation (JBIC) and the US International Development Finance Corporation (DFC), which would "bring in several billion US dollars" for Indonesia's sovereign wealth fund. The Kayan power plant was one of the many projects he proposed to the two financers.
"China, Japan, Abu Dhabi, the US and Singapore will become a single financial umbrella for Indonesia," he said.