Marchio Irfan Gorbiano, Made Anthony Iswara and Adrian Wail Akhlas
The Jakarta Post
The government has begun to flesh out supporting rules for Indonesia's sweeping regulatory reforms that will open up the economy and relax investment to stoke sluggish growth and create jobs.
The new regulations would open up sectors previously closed for foreign investors in by revising the negative investment list, streamline all business licenses under Investment Coordinating Board (BKPM) and relax taxes for corporate income, expatriates, dividends – among others.
More efforts in deregulations include revoking at least 40 ministerial regulations and relaxing building permit (IMB) and environment impact study (Amdal) requirements.
"It really shows that the government has [responded] to the complaints of business people [...]," Indonesian Chamber of Commerce and Industry (Kadin) deputy chairman for monetary, fiscal and public policy Raden Pardede said.
Indonesia has struggled to attract more investment into the country amid sluggish economic growth that reaches 5.02 percent in the third quarter, the slowest pace in more than two years.
The growth of investment, which accounts for about a third of the country's gross domestic product, plunged to 4.21 percent from 6.96 percent recorded in the same period last year, Statistics Indonesia data show.
"We have to be open and utilize the global value chain as best as we can. So, we need to choose which investments that are more beneficial to us," Raden said. "It's about how we lure more investments and cooperate with foreign investors on transfers of knowledge."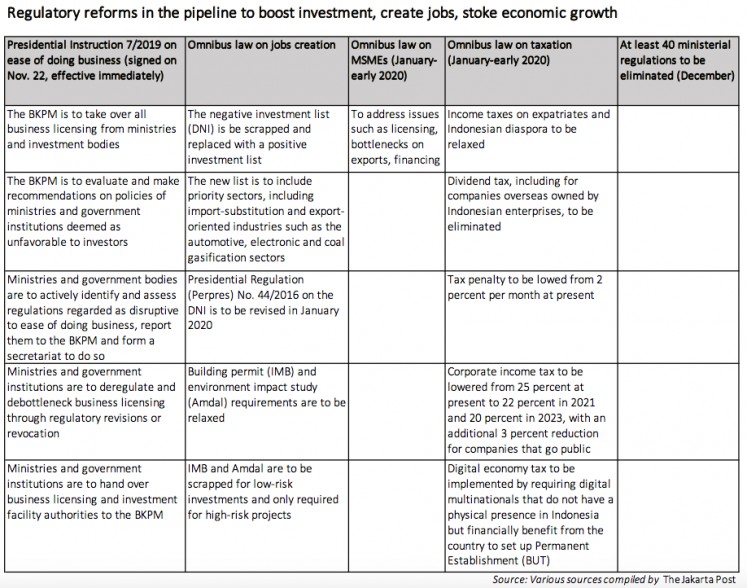 Reforms in the pipeline to boost investment, create jobs, stoke economic growth (JP/est). Usage: 0 (JP/est)
President Joko "Jokowi" Widodo issued Presidential Instruction No. 7/2019 on ease of doing business on Nov. 22, effective immediately, that streamlines all business licensing under the Investment Coordinating Board (BKPM). BKPM will therefore take over licensing works currently scattered around ministries and government bodies.
"Officials from the line ministries will report from the BKPM office so that [the licenses] will only be processed there," said BKPM head Bahlil Lahadalia, suggesting ministries' licensing staffs will be seconded at the investment agency's office.
The rule also grants more power for the investment agency by giving it the authority to review policies deemed as unfavorable for investors, as well as mandates ministries and government bodies to deregulate. Jokowi has assigned ministers to revoke at least 40 ministerial regulations by December, Cabinet Secretary Pramono Anung said.
"The President has given the target that, with the authority [to process licensing] fully resting with the BKPM, the BKPM has also been asked to improve [Indonesia's position] in the [annual World Bank EODB ranking] range between 50th and 40th by 2021," Pramono said recently.
The government has also been drafting details of at least three omnibus laws on job creation, on small and medium enterprises (SMEs) and on taxation. The omnibus law on job creation will at least amend articles in more than 70 existing laws with the aim to remove barriers that deter investments.
It includes the plan to scrap the list of sectors restricted for foreign investors called the negative investment list (DNI), and replace it with positive investment list on priority sectors for foreign investors. Presidential Regulation (Perpres) No. 44/2016 on the DNI will be revised in January 2020, said Coordinating Economic Minister Airlangga Hartato.
A full investment ban would only apply to six sectors, namely gambling and casino, endangered plants and animals (CITES), cannabis cultivation, natural corals, mercury-based alkali metal and chemical weaponry.
"We will draft a presidential regulation [Perpres] on the priority list, or the positive [investment] list, particularly [for industries that] are import-substitution or export-oriented," Airlangga said on Nov. 12.
He added several sectors that could strengthen Indonesia's value added chains to be included in the priority list, including the coal gasification, automotive and electronic sectors.
The omnibus bill on jobs creation would also scrap Amdal and IMB for low-risk investments which have been criticized by business players – both domestic and foreign – as sources of red tape in investing in Indonesia.
Agrarian and Spatial Planning Minister Sofyan Djalil also said the matter is still under discussion, although he said the government is looking at alternatives that could resolve the industry's frustrations regarding IMB's lengthy processes.
"The goal is to create jobs, jobs and jobs," Sofyan emphasized.
The Indonesian Forum for the Environment (Walhi) campaigner Edo Rahman expressed disappointment for the plan to remove Amdal and IMB, adding that the government has been vague in defining which activities it deemed "high-risk activities".
"It's ridiculous, why do the government suddenly want to remove our only instrument to control environmental [risks]?" Edo said. "Authorities must do an in-depth study first before announcing the plan because such plan could cause an upheaval in our [infrastructure] development."
Meanwhile Finance Minister Sri Mulyani Indrawati suggested there would be a separate omnibus law on taxation, on top of the omnibus law on jobs creation that the coordinating economic ministry handles under Airlangga.
The omnibus law on taxation would relax income tax for Indonesian and foreign expatriates as well as eliminate dividend tax, in addition to reduced corporate income tax and a new digital economy tax.
Foreigners who work in Indonesia for more than 183 days will be taxed on only the income they earn in Indonesia, while Indonesians who work abroad will be exempt from paying income tax in Indonesia, Sri Mulyani said.
The government, Sri Mulyani continued, would also eliminate dividend tax for companies with an ownership stake of less than 25 percent.
"We will eliminate the dividend tax. If the [attendants] here are the real CEOs and owners, you should be happy," she told the forum.
Sri Mulyani said that the omnibus law on taxation would also revise tax penalties.
"We will also reduce the [interest] penalty from 2 percent per month [after the tax due date] by adjusting the penalty to the interest rate," she said.
The tax reforms were on top of the government's plan to gradually cut corporate income tax from the current 25 percent to 22 percent in 2021 and 20 percent in 2023. The plan included an additional 3 percent reduction on corporate income tax for companies that went public.
The government, Sri Mulyani added, would also tax digital companies, including Netflix, Spotify and Amazon, by using the Permanent Establishment (BUT) designation for digital multinationals that do not have physical presence or employees in Indonesia, but benefits financially from the Indonesian market.