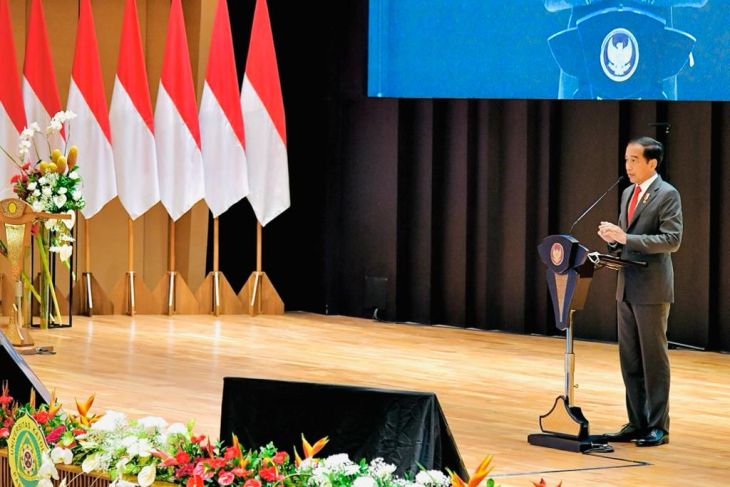 The green industry zone in North Kalimantan will open new opportunities for Indonesia to become a major player in the global green industry, President Joko Widodo (Jokowi) has said.
"If our effort is successful, the 16 thousand-hectares industry zone will be a new gateway for Indonesia to advance as a major industrial country, and this gateway will start at the North Kalimantan green industry zone," the President said at the commemoration of the 67th Dies Natalis of the Parahyangan Catholic University in Bandung, West Java.
The first phase of the green industry zone in North Kalimantan is expected to be completed in 4–5 years, he noted.
Indonesia's economy is in the midst of a transformation to an environmentally-friendly green economy that will advance sustainable economic development, the President remarked adding, green products will become the new norm for the global community in the foreseeable future.
The country will join the global shift towards green economy by producing environmentally-friendly products to support the green ecosystem, he noted.
"European countries have begun scrutinizing whether a product is produced by green energy (or not), and we have a great potential for green energy here," he stated.
Indonesia has the potential to generate up to 418 gigawatts of renewable energy from geothermal, water, wind, and solar energy resources, among others, the President noted, adding that Indonesia has harnessed geothermal energy sources to produce just 2 thousand megawatts of electricity so far.
"This means we have more than 27 thousand megawatts energy potential. We have also tested the wind condition in Jeneponto, Sidrap, Sulawesi, and Sukabumi (for the development of wind energy). We have many green energy resources to replace fossil, coal, and oil energy resources," he said.
The President also highlighted the potential of harnessing energy from water sources, saying the country has 4,400 rivers, with Mamberamo River in Papua and Kayan River in Kalimantan having the capacity to produce up to 23 thousand and 11 thousand megawatts of electricity, respectively.
"(The massive energy potential) is only from a mere two rivers, and we have 4,400 rivers in total. We can imagine how huge our opportunity to create green energy and products is," the President remarked.
Source From Antara News
Original News HERE