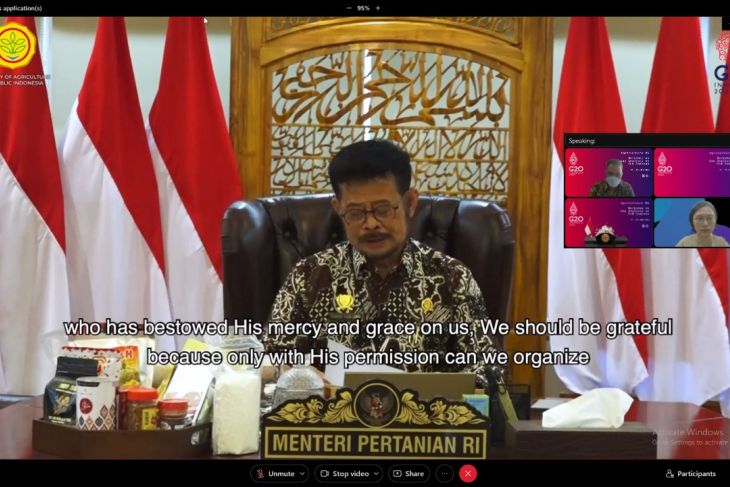 Agriculture Minister Syahrul Yasin Limpo, during the online Workshop on Gap Analysis of Food Loss and Waste Indices on Tuesday, invited countries across the world to apply the concept of food loss and waste (FLW) reduction.
The large potential for FLW reduction, which can affect food availability, has become the reason for its inclusion in the sustainable development goals (SDGs), specifically regarding responsible consumption and production.
The online workshop was part of the G20 Presidency events. G20 is an international forum comprising 19 countries who work together to handle major issues. Indonesia is holding the presidency of the grouping this year.
According to Minister Limpo, good FLW handling can bolster nutritional availability and the resiliency of a country.
In addition, it can improve the efficiency of the food value chain while also contributing to eco-friendly development.
"The FAO (Food and Agriculture Organization) has reported that one-third of the food produced by the world is thrown away and becomes waste that cannot be recycled," he noted.
Meanwhile, the world will need to fulfill the food demand of 9 billion people by 2050.
"To this end, we need to implement FLW (reduction)," he said.
In addition, a study by the National Development Planning Agency (Bappenas) has estimated that FLW in Indonesia was between 115 and 184 kg per capita per year during the period from 2000 to 2019.
Hence, the effort to significantly reduce FLW is expected to bolster food resiliency, specifically on the supply side, which will be an important aspect of agriculture development in the future.
"Currently, there is still a gap between the measuring method and data availability to estimate food loss index and food waste index in various countries, including G20 member countries," Limpo noted.
"This causes a difficulty in measuring the capability of every country to support global food availability," he added.
The minister said he expects that, through the workshop, there will be an increased understanding of measuring FLW.
Therefore, the commitment of every G20 member country is needed for building better food resiliency.
"Once again, I say that the agriculture sector plays an important role in meeting food demand. Because of this, food and nutrition troubles that many countries are currently encountering should be resolved together," he remarked.
Source from Antara News
Original News HERE