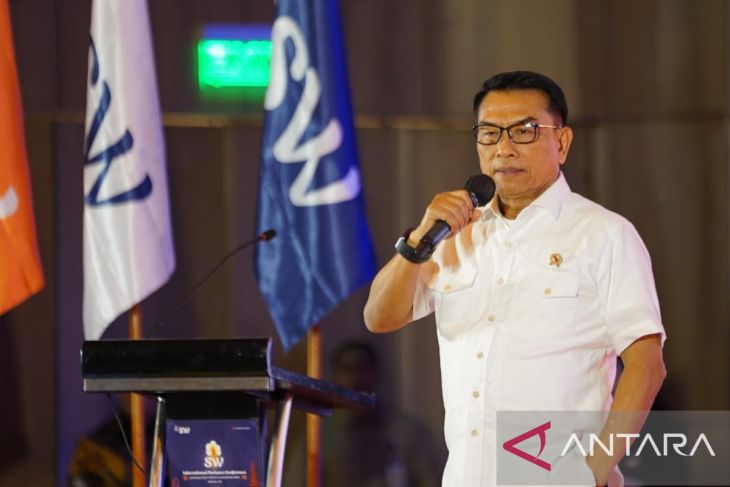 The government is striving to maintain a conducive investment climate using three methods — maintaining economic and political stability, developing the logistics system, and simplifying regulations, Chief of the Presidential Staff Office (KSP) Moeldoko has said.
"These three steps have become President Jokowi (Joko Widodo) administration's strategic steps in creating an interesting investment climate for investors," he added during the 2023 SW International Partner Conference here on Wednesday.
As a democratic country, Indonesia has an interest in maintaining the balance between political and economic stability as well as openness.
According to Moeldoko, if the government's policies create a condition that is too stable, it will hinder Indonesia's development and make it closed to changes.
Conversely, if a country is too open, it would disrupt its ideology and stability, he added.
"As a result, the country's security could get disrupted. We can see this condition in several Middle Eastern countries," he pointed out.
The government is continuing to develop an effective and efficient logistics system by developing various infrastructures and supporting the movement of goods and humans.
The infrastructures include an integrated transportation network with modern airports and seaports.
Meanwhile, in terms of regulations, the Indonesian government has simplified regulations using the omnibus law approach by harmonizing 72 laws.
"This has been done to provide assurance, convenience, and optimal public services," he explained.
Moeldoko underlined that Indonesia has a grand vision of becoming a developed country by 2045 with a per capita income of US$23 thousand.
To realize this vision, the Widodo administration has devised five strategic steps: human resource development, infrastructure development continuation, regulation improvement, bureaucracy reformation, and economic transformation.
"When it comes to economic transformation toward the green economy, Indonesia is already on track. This is the result of the World Bank's evaluation," Moeldoko informed.
Source from Antara News
Original News HERE