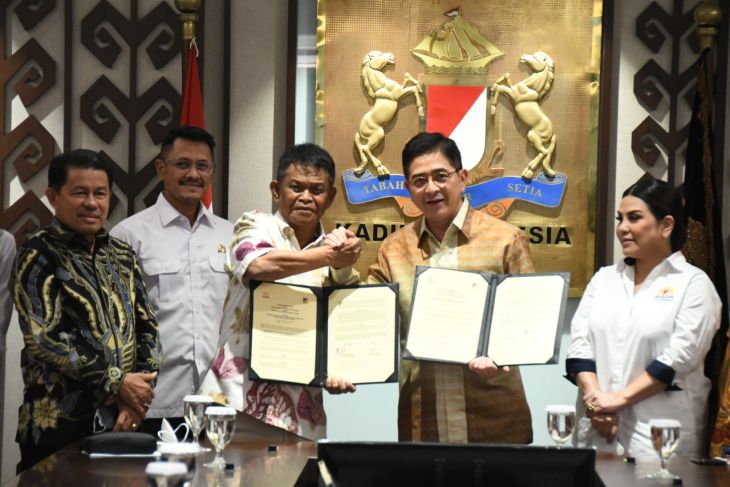 The Indonesian Chamber of Commerce and Industry (Kadin) has established a cooperation with the Central Sulawesi provincial government to develop transportation and its supporting elements in the province.
"This cooperation shows the real role of Kadin in the field of transportation in developing regions across Indonesia," Kadin's Deputy Chairperson for Transportation Denon Prawiraatmadja stated in a written statement here on Sunday.
According to him, the cooperation is a form of Kadin's effort to develop transportation and build infrastructure across the country.
"We also planned a visit to Central Sulawesi to see the potential of the transportation industry and make the most of the business opportunities in the region," he remarked.
Kadin Chairperson Arsjad Rasjid said the agreement between his party and the Central Sulawesi government is part of the four pillars of Kadin's work program, specifically the regional economy pillar.
The main objective of the cooperation is to jointly develop the economy in the region, starting from the lower level, namely the village level, to the district and province levels.
"It is known that the most important part of the economic development of a region is the supply chain. With this system, there is a network between companies and their suppliers to produce and distribute certain products to final buyers," he said.
In addition, Rasjid noted that the cooperation is expected to stimulate the birth of entrepreneurs in the region so that entrepreneurs will not only be born in the capital and Java Island but also in regions like Central Sulawesi.
Central Sulawesi Governor Rusdy Mastura said the province would require adequate means of transportation, given that it has become one major supplier of goods to almost all provincial governments in Kalimantan Island.
"We see that what is important now is air transportation because aircraft will speed up the delivery of natural products and superior products from our region, both to domestic and export markets," he said.
Central Sulawesi, he said, has an abundant natural resource such as gas, nickel, gold, copper, galena, and gravel. To this end, Central Sulawesi needs support from Kadin in readying sea transportation in the form of barges and other supports.
Source from Antara News
Original News HERE