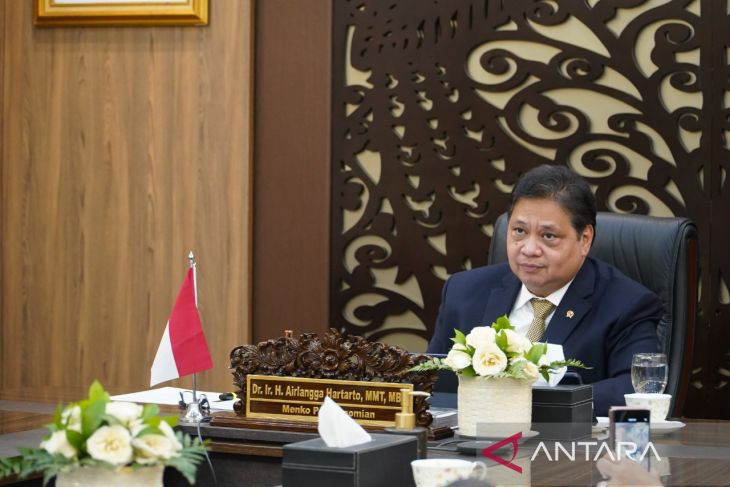 Indonesia's economic activities have continued to show an increasing recovery trend, with the Purchasing Managers' Index (PMI) in the manufacturing sector recorded at 51.3 in July, an increase of 1.1 points month-to-month.
"Certainly, the achievement cannot be separated from the works of various parties to expedite economic activity recovery," Coordinating Minister for Economic Affairs Airlangga Hartarto said in a statement issued here on Tuesday.
Indonesia's PMI has remained expansive since September 2021, or for 11 consecutive months.
The current figure has even surpassed the PMI of other ASEAN countries, such as Vietnam (51.2), the Philippines (50.8), Malaysia (50.6), and Myanmar (46.5).
The impressive performance of real sector activities is proof of the resilience of the domestic economy in the midst of ongoing global challenges, the coordinating minister noted.
The increasing trend in real sector activities was also reflected in the results of the Business Activity Survey (SKDU) in the second quarter of 2022, with the weighted net balance (WNB) reaching 14.13 percent for the period, higher than the WNB of 8.71 percent in the first quarter.
Furthermore, the strengthening of output capacity in various sectors contributed to the increase in the value of Indonesia's exports, which were recorded at US$141.07 billion (Rp2.108 trillion) during the first half of 2022.
Hence, the country's trade balance experienced a surplus for 26 consecutive months.
Hartarto said that the government will continue to push for an increase in domestic production, especially in sectors that have a large multiplier impact.
"In addition, the simplification of various regulations continues to be pursued as (part of) the government's commitment to improving the ease of doing business in Indonesia," he noted.
Furthermore, several improving macroeconomic indicators have made Indonesia an investment destination for international business actors.
As of the second quarter, investment realization has reached Rp302.2 trillion (US$20.2 billion), an increase of 35.5 percent year-on-year, and has created jobs for 320,534 Indonesian workers.
The inflation rate in Indonesia is also still under control, though currently, many countries are experiencing a significant increase in inflation.
According to Statistics Indonesia (BPS), Indonesia recorded an inflation of 0.64 percent month-to-month, 3.85 percent year-to-date, and 4.94 percent year-on-year in July.
Source from Antara News
Original News HERE