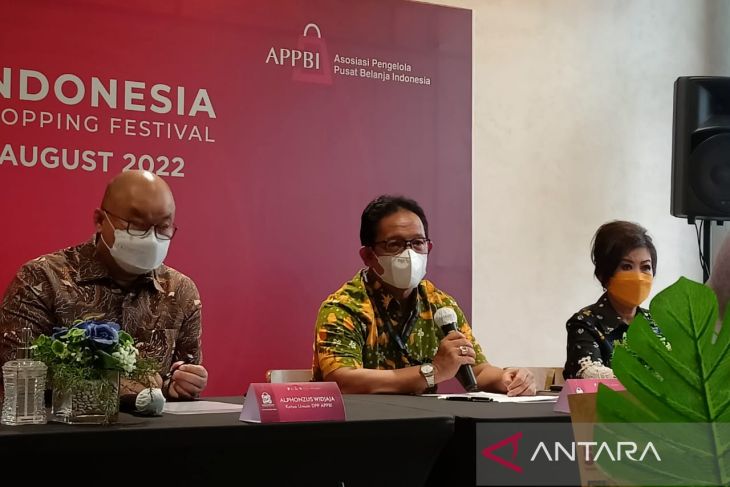 The government is encouraging inclusive and egalitarian economic growth whose benefits can be felt by business players at various levels.
Trade Ministry official Widiantoro made the remark during a press conference on the Indonesia Shopping Festival here on Wednesday.
He urged major business actors to help micro, small, and medium enterprises (MSMEs) so that their businesses can revive and recover after confronting the challenges of the COVID-19 pandemic.
"We cannot have one revive while the others do not. We have to revive and recover together," he remarked.
The ministry currently has several programs that can involve collaboration with business actors to expedite the growth of the national economy.
The programs include building partnerships between entrepreneurs, with MSMEs as suppliers in offline and online retail, such as e-commerce platforms and marketplaces.
Another program involves developing partnerships between shopping centers and MSMEs. The goal is to give MSMEs and brands the opportunity to be present in strategic locations at shopping centers.
Yet another program concerns digital transformation in the retail sector. Currently, entrepreneurs must see digital technology as a good opportunity amid the challenge to be more adaptable with the passage of time.
"Business actors are expected to be able to quickly utilize the online trade trend that aligns with the currently developing dynamic," Widiantoro remarked.
Moreover, the government is also partnering with related parties to hold training and assistance programs on effective and efficient retail management for local retail business actors.
In addition to these programs, the ministry is very open to inputs and ideas from parties, including the Indonesia Shopping Center Association (APPBI), to improve policies for expediting economic recovery.
APPBI will hold the Indonesia Shopping Festival from August 11–21, 2022, in several major cities across Indonesia to help the government expedite national economic recovery (PEN).
Source from Antara News
Original News HERE