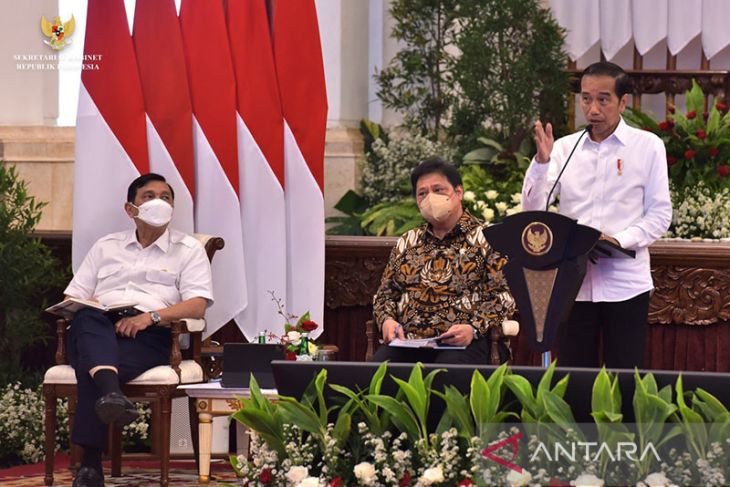 Pushing massive production is part of three aspects the Indonesian Government is focusing on to turn the global food threat into an opportunity, President Joko Widodo said on Monday.
The long-term impact of the COVID-19 pandemic and the war between Ukraine and Russia have given rise to the potential for a food crisis.
"First, massive production increases, whether from farmers, corporations, and state-owned enterprises, everything must be increased. Don't do it as (you would on) daily routine," the President said during the Plenary Cabinet Session at the State Palace, here on Monday.
The President reminded Indonesians to not do things as they would normally, or else the strategy to increase production on a large scale would end in vain.
He called for a massive food production increase coupled with appropriate choices of food types that fit the regions' conditions.
"Yesterday, I and the chief of the Presidential Staff Office (Moeldoko) saw sorghum in East Nusa Tenggara, for example. Corn was planted, (and) it thrived; so was green sorghum planted. They were very green and looked very fertile. It turns out that in East Nusa Tenggara, there is a lot of sorghum," he said.
The President also called for the immediate determination of off-takers who can accommodate the results of the massive production increase.
"So there are farmers who continue to produce and there are also those who buy. Don't let farmers produce a lot, (yet) Logistics Bureau doesn't take it, PT RNI doesn't take it," he said.
Widodo then called for a prompt decision on which companies would accommodate which produce as well as the cost scheme and asked SOEs Minister Erick Thohir to monitor its implementation.
"Thirdly, if you take it, don't let it be like (what happened in the) Logistics Bureau (case), (in which they) took from a lot of farmers, the stock couldn't be sold, so the quality went down and some got spoiled, damaged. Don't (be like that)," said the President.
He called for thorough and detailed planning for the food production increase, from its beginning to its end.
This makes good collaboration between ministries, institutions, state-owned enterprises, the private sector, and regional governments necessary, he remarked.
He also instructed that the threat of a food crisis be approached carefully and used as an opportunity.
This opportunity is present because Indonesia still has a large area of land, supported by human resources, for producing food.
The President disclosed that some countries have sought to import rice from Indonesia in the range of 100 thousand tons per month to 2.5 million tons for the rest of 2022.
Source from Antara News
Original News HERE