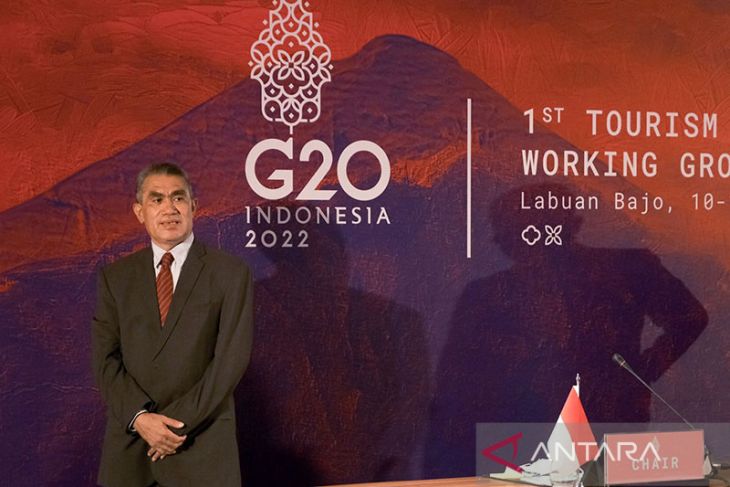 The G20 delegates agreed to create a sustainable tourism climate through international financing to enable the tourism sector to contribute better in improving the economy and community welfare as well as preserving nature.
The commitment was conveyed in the Tourism Working Group (TWG) 1 in Labuan Bajo, East Nusa Tenggara, which discussed tourism climate action, biodiversity conservation, and the circular economy towards green and sustainable tourism.
"The COVID-19 pandemic has increased global public awareness of the importance of growing action for a healthy tourism climate and environment, developing a circular economy, and increasing biodiversity conservation in order to preserve the earth," Chair of the Tourism Working Group Frans Teguh noted in an official statement here on Wednesday.
Teguh remarked that the success of tourism is not only measured by the number of visitors but also focuses on the positive impact that the sector can have on economic improvement, community welfare, and nature conservation.
He noted that based on research by the World Tourism Organization (UNWTO) in December 2019, the tourism sector was expected to increase carbon emissions by around 25 percent by 2030. Therefore, the delegates agreed to address this through funding to create a sustainable tourism climate.
"Reducing carbon emissions in the tourism sector requires financing to support the transformation towards more sustainable tourism, including by considering the possibility of establishing an international fund to neutralize the (impacts to create a sustainable) climate in the tourism sector," Teguh remarked.
This financing is also viewed as being able to increase the quantity of low-carbon transportation in the tourism sector, so that it will have a positive impact on nature conservation and can be felt in the community.
"Green infrastructure in the tourism sector is the key to the resilience of the tourism sector itself. The need to transform tourism operations for climate improvement is paramount for the tourism sector to stay in line with the global goal of reducing carbon emissions," he emphasized.
The G20 delegates also stressed on the urgency of better transparency of the environmental impacts in the tourism sector, especially in monitoring the carbon footprint in the sector.
Teguh invited the delegates to encourage more tourism and creative economy players to participate in the Glasgow Tourism Declaration, a voluntary commitment globally to halve emissions by 2030 and achieve net zero by 2050.
"Overcoming plastic pollution can also be a catalyst for circularity in tourism. Apart from reducing marine debris, addressing plastic pollution can also preserve tourist attractions and encourage wider job creation," he stated.
Source from Antara News
Original News HERE