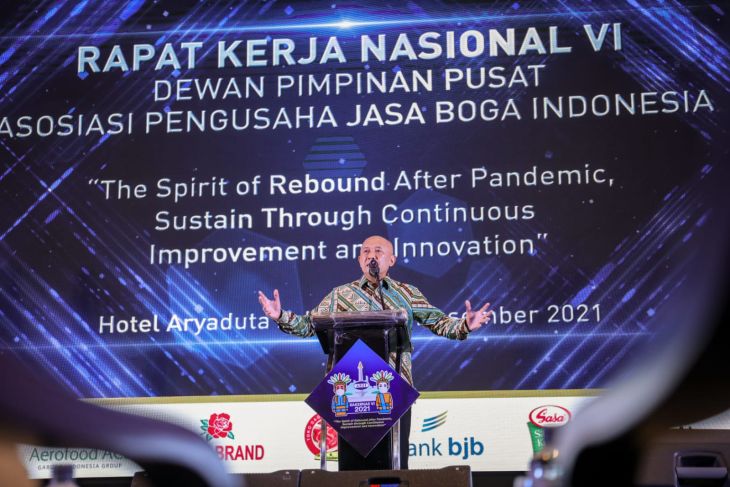 The culinary or food and beverage industry has the potential to grow since the national economy has shown improvement, Minister of Cooperatives and Small and Medium Enterprises, Teten Masduki, has said.
"This has happened because the domestic food and beverage industry is supported by the availability of abundant raw materials," he noted while opening the 6th National Working Meeting of the central executive board of the Indonesian Culinary Entrepreneurs Association (APJI) here on Tuesday.
Looking at the huge market potential, Masduki said he hopes that APJI members will capture market opportunities by continuously improving the competitiveness of their products.
Culinary business players need to have courage and creativity in promoting their products to enhance their competitiveness, he added.
APJI members are expected to be bolder in displaying their superior products in strategic places, the minister said.
"APJI must be brave to compete with foreign brands. They can bring local brands to dominate the local market. We also want APJI to build a catering business model that can be replicated anywhere with strong supply chain support," Masduki added.
The government is ready to provide support ranging from strengthening brand competitiveness through training, low-cost financing, to market expansion, the minister informed.
Currently, the government has launched a low-cost financing policy for micro, small and medium enterprises (MSMEs) through low-interest people's business loans (KUR), he said. The government has also built a showcase for MSME products at Smesco Indonesia, he added.
In addition, ministries and government agencies are required to allocate a budget of 40 percent to purchase products and services from MSMEs, he pointed out.
"I hope that APJI can make an inventory of its members who have the potential for us to scale up. Because apart from encouraging the culinary industry, we also want to encourage the spice industry, which is also very rich in Indonesia," the minister said.
Meanwhile, APJI chairperson Rahayu Setiowati said that the association is committed to encouraging the catering service industry to bounce back from the COVID-19 pandemic through collaboration with the Ministry of Cooperatives and SMEs as well as relevant stakeholders.
The association is also encouraging players to improve the competitiveness of national culinary products, she added.
"We are ready to carry out assignment and orders from Minister Masduki," she remarked.
Source From Antara News
Original News HERE