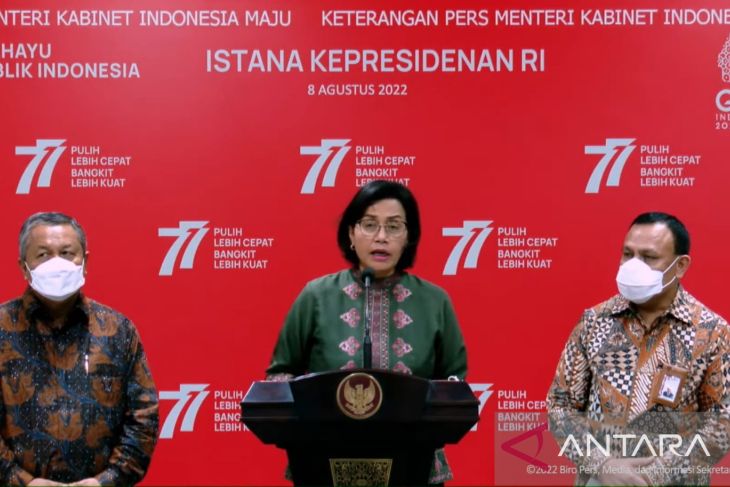 Indonesia's economic recovery in Q2 and Q4 of this year will get a boost from the consumption of domestic products, Finance Minister Sri Mulyani Indrawati has said.
President Joko Widodo has reminded each ministry and government institution to buy products with high local content to realize the government's spending, the minister noted after attending a plenary cabinet ministerial meeting on the 'Finance Note and Draft State Budget 2023,' at the Presidential Palace, here on Monday.
The Proud of Made-in Indonesia Product Movement and domestic product consumption have supported the nation's economic recovery amid global turmoil, she added.
The Indonesian economy in 2022 is in a good condition, even reaching the pre-COVID level, as seen from the gross domestic product (GDP) in 2021–2022 as well as the state budget deficit, which has been considered moderate, the minister said.
According to Statistics Indonesia (BPS), the Indonesian economy, based on the GDP in the second quarter of 2022, reached Rp4,919.9 trillion, or up 5.44 percent compared to the corresponding period of the previous year.
Meanwhile, Indonesia's economy in 2021, based on GDP, reached Rp16,970.8 trillion or up 3.69 percent year on year, with GDP per capita recorded at Rp62.2 million or US$4,349.5, BPS noted.
The 5.44-percent economic growth recorded in the second quarter of 2022 is an impressive achievement, Indrawati said.
"This is a fairly high growth because last year, in the second quarter, the growth was quite high and this year, it could be 5.44 percent, even above the forecast. We are optimistic that 5.2 turned out to be 5.44 (percent)," she added.
The minister deemed domestic consumption a supporting factor for maintaining strong economic growth in times of global uncertainty.
Source from Antara News
Original News HERE